With a resume that includes over 40 films, Actress (also Director and Producer) Stephanie Beaton continues down a career path we all aspire to. She has done it the right way with determination, passion, hard-work and maintaining her integrity. Film Synergy would like to thank Stephanie for taking time away from her non-stop schedule to complete this interview. This is one of those interviews you wish would never end, begin reading and find out why.
FS: When did you realize you wanted to pursue acting?
SB: When I was a kid, I bought all the
Fangoria Magazines
and loved the images of gore and horror and I loved horror films. I always acted out the roles and memorized lines from films really easy. BUT I wanted to be a Veterinarian when I was a kid. It wasn't till I moved to California in 1986 that I decided to pursue an acting career. I took classes in High School and began college at 15 and majored in dramatic arts. Then I moved from Port Hueneme, CA down to West Hollywood in 1992 and I really pursued my career with real acting classes and started landing my first role in 1995.
FS: Who was in your corner, pushing and cheering you along?
SB: My mom was my driving force behind my career. She believed in whatever I wanted to do or become. She never stopped me. She knows how tough this business is and it IS tough but if I want to become something, she will be behind me every step of the way.
FS: What motivates you?
SB: The drive to succeed and not be a failure. I want to at least try and even if I never become top dog at this or become a household name in every single home in the world, at least I have tried my hardest to do what I could do and to achieve the level that I have become.
FS: You've played everything from a Princess to Satan, how does the acting process begin for you? How do you come up with your characters?
SB: Well first things, I read all incoming scripts from production companies. When I first read a script, I know immediately whether this is me or someone I could become or not. I break it down and just be real. I don't use a Meisner technique or anything. I use the Tony Barr style, simplicity. Listening and reacting and its more real. I have taken this same mentality with me when I am producing and directing my OWN films and other actors. I don't believe in constantly beating the scene with take after take until its not real. If the talent nails it on the first take and it was beautiful, we move onto Close-ups or a different angle.
FS: You've acted in over 30 films and more recently have been begun moving behind the camera in recent years from writing to directing and producing. How did this begin to happen for you and which facet of the filmmaking process brings you the most joy and satisfaction?
SB: I started my company
SILVER MOON PRODUCTIONS
in 2000 and in 2001, I produced my first film, "The Bagman". Since then I have produced 4 films thru my company..."The Bagman", "Evil In The Bayou", "Tales From The Grave", and "Tales From The Grave, Volume 2, Happy Holidays". I dearly love writing and producing and directing. I think I actually love it even more then acting and because you can take something from scratch and watch it become alive right before your eyes. Its a beautiful moment in film. Its crazy.....I've been told in the past that I don't take myself seriously because I am always laughing like when I am watching my film in editing and I see a really nice scene that looks and feels great. I have a habit of laughing because it's wonderful to see it look great and FEEL right. That's me. If I ain't laughing then there is a MAJOR problem and everyone WILL know about it. I take myself very seriously but I just am not hung up on any Hollywood scene or style. I like being a real person. So in the end, I think like being behind the camera the best.
FS: Your latest project, Beast is one that you are producing as well as starring in, what can you tell us about this project? When can we expect to see it?
SB: I was hired onto "Beast" as an actress and doing Special Effects. In the end I ended becoming the UPM on set and organizing things and helping Gary Levinson, (the producer & director) out. It was a fun and interesting shoot. It was one that was similar to my days of my FIRST films I acted in way back in 1995. It reminded me of that style by the way Gary shoots his movies and puts it all together. In the end it was a good time. Gary's a good guy. As to what to expect.....that I can't honestly tell you. It's in editing now and will most likely be out by December of 2005.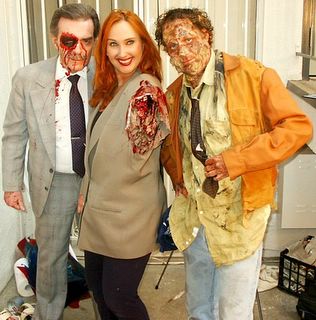 FS: You have thousands of fans. How does that make you feel? What is the best fan story you can share with us?
SB: It's great to have fans and people who follow your career. I've had many fans want to buy one of my action figure dolls that is made after me from a film I was supposed to do with Bruce Campbell. Unfortunately, I only have one of the dolls and I don't know where to get anymore. But, I like having fans and signing autographs. I get fan mail from all over the world including death row inmates but I write them back too. A lot of my fans come out to my autograph signings I have and meet me in person. A lot of them travel from place to place to where I go. Sometimes its weird but mostly its nice. My weirdest fan request had to be when one wanted my finger nails from Witchcraft 11. The French manicure. So I packed up some nails and shipped them off. He paid a pretty high price for those suckers.
FS: With all the various parts of production you are now taking on, what can we expect from you next?
Tales From The Grave, Volume 2
SB: Well, I am premiering my latest film, "Tales From The Grave, Volume 2, Happy Holidays" in July 2005. I am guest speaking at an event on June 11th and signing autographs June 12th at the Shrine in Los Angeles. I'll be in San Diego for the San Diego Comis Con for a day or 2 in July. Then I am beginning to shoot my 5th feature film, "It Crawls". That's the Sci-Fi/Horror creature feature. I wrote the script and will be directing and producing it as well. Other then that, "Tales From The Grave" the first one, is being released September 2005. "The Bagman" and "Evil In The Bayou" is already out there all over the place.
FS: Lastly, you have achieved success and longevity in Hollywood, something that millions aspire to do but only few achieve. Please reflect and share with us your thoughts of what your journey and what you have accomplished.
SB: It hasn't been easy in this journey. I have dealt with some really bad, not so nice people along the way and most of them are producers. It was a tough battle. Its crazy, Hollywood that is....that people in this industry seem to come into this business with other ideas in mind like scamming people....this is from these so called agents to would be producers. I used to manage talent for about a year and I didn't take actors for a ride. I pushed them as far as I could. Now I deal with distributors and the other side of the camera stuff which is REALLY scary! Boy I never thought it was tougher. I wouldn't give it up though for the world. As much as a lot of people out there that might be jealous or hateful would like to see you fold and fall....there is no way I would let them win without a fight. I love making films. I love acting. And I HAVE met a lot of nice, GOOD people along the way and its makes up for all the bad. I wouldn't give this profession up, but I certainly wouldn't wish it on my worst enemy!
To learn more about Stephanie Beaton and Silver Moon Productions please visit her official website:
http://www.stephaniebeaton.com/
The perfect gift for music lovers in your life – iTunes gift certificates